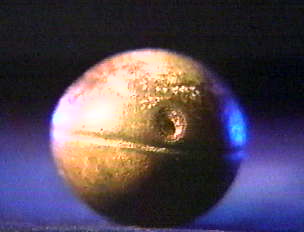 Des spères qui dateraient de 2,8 à 3 millions d'années. Que sont-elles ?
200 ont été retrouvées dans une mine en Afrique du Sud.
Elles sont couvertes d'une mince couche métallique dont l'intérieur est spongieux et s'effrite exposéee à l'air libre.
A complete mystery according to Roelf Marx curator of the South African Klerksdorp Museum, as the one he has on exibit rotates on its own, as at the bottom of the graph,locked in a display case, free of outside vibrations.